Hungarian recycling company wins third global award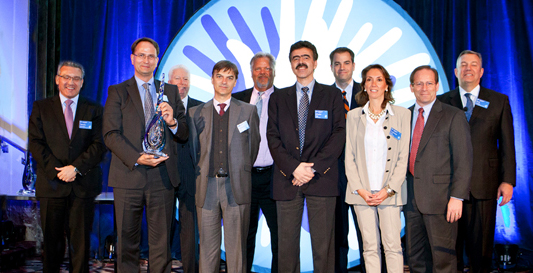 November 1, 2013 – Éltex, a Hungarian company that specialises in high-quality recycling, has won international recognition for its work in helping to protect the environment. The company surpassed 82,000 other companies around the world to win the "Business Partner of the Year" award by Procter & Gamble (P&G) at its annual supplier event in Cincinnati, Ohio last week.
This is the third time in a row that Éltex has won the award, one of only 15 companies chosen from among more than 82,000 firms all over the world. The Hungarian company helped P&G to establish their first plant that sends zero waste to landfill and has worked with the consumer goods manufacturer on several other sites to ensure that all waste is recycled or re-used and that none is dumped in landfill sites.
Procter and Gamble established the Business Partner Awards six years ago to recognise and celebrate those partners that have demonstrated partner excellence by performing with top results in P&G's Supplier Performance Management System. Eltex provides recycling services to a number of P&G operations with the aim of minimising environmental impact and lowering their costs by buying their waste and then selling it on to be re-used.
Zoltan Vass, Director of Éltex accepted the award on behalf of the company at the annual event in Cincinnati. "Procter & Gamble is one of the biggest companies in the world, so I'm thrilled that the work of our team has been recognised in this way and that a Hungarian company has been able to achieve such recognition", said Vass. "Sustainability is a key measure of our business. Our aim is to help manufacturers so that no waste goes into landfill and everything is reused. It's fantastic that a global company like P&G shares that same commitment to sustainability and actively encourages all its partners to do the same".