Excellence Award 2014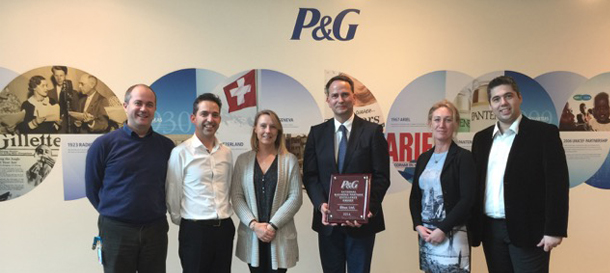 Our company was awarded a very special prize from the leading global company, Procter and Gamble. The leadership of Éltex Kft. was presented with the business "Excellence Award" for the fourth time in a raw this year – on this occasion the award giving ceremony took place in the P&G's Geneva Head Office.
"It is a great honor for us, since only a few dozens of firms may receive such price out of the total supplier base of 75 000 companies that the World's leading manufacturer works with." – said Zoltán Vass, Éltex CEO. " As a key strategic partner of P&G we have been supporting the company for several years with all our efforts, expertise and innovative solutions in order to help them achieve their environmental and business goals."
Éltex Kft. manages the selective collection of waste material created throughout the production process and purchases these. After further selection and processing the materials are recycled. The waste management and environmental protection firm has been creating a continually increasing value to its partner, P&G over the years with the introduction of innovative ideas, new processes not only in the Hungarian production facilities but in several other Procter factories in Europe.